I know I won't be buying new couches any time soon, but I am still imagining a way to change the living room a bit. I have been looking for bamboo blinds that will fit my huge window. I think it looks very clean. It would also help the curtains from getting caught on the sheers and pulling them everywhere.
This is what I mean: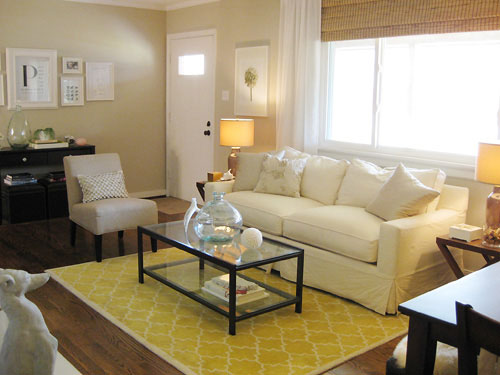 Young House Love
used two bamboo blinds for their oversized window. I am still looking for some...
made by girl
blogged about a designer today, who just happened to create the same look.
So what I have noticed from these shots:
-hang the bamboo above the frame (which helps since my windows are in metal frames)
-hang curtain rod at almost the ceiling, it makes the room look taller
-an awesome rug will help ground the space (I dont think that is in my budget just yet)
So I'm still on the hunt for an 88" long bamboo blind, or two 44"
ones.
Home Depot does not have a big selection,but my trusty
Overstock
has 44" (not 88").