We've moved furniture around a lot in the past months. The plan was to get rid of the living room furniture and make that the dining room. Our little dining nook isn't going to work with our plans of someday opening up the kitchen doorway, tearing down the weird half wall, and expanding the kitchen.
So furniture is gone. and the room felt so empty. Then after going to a friend's house (which is a similar rambler style but with an actual dining room) for her birthday I realized people actually do/will hang out upstairs. It's near the kitchen, where the food (and wine) is. So I moved the dining table from the center of the room over to the back wall. My thought was that we would make that area the 'dining room' and have a couple chairs or something so people have somewhere nice to sit.
Adam doesn't agree.
I just need to show him my ideas, which we haven't had much time to talk about, and pictures and maybe he'll get it.
We are planning to get a new table, and since moving our current table against the wall I thought maybe a table with a bench would be nice. One of the best home inspiration sites (in my opinion) is
Young House Love.
In their first house they had a table, against a wall, with a bench, open to more seating in the room.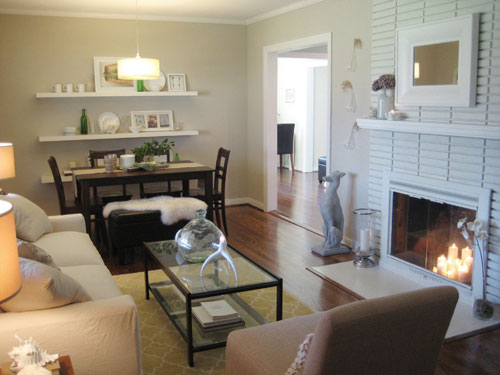 Our room obviously doesn't have a fireplace, and it won't have room for a chair AND sofa, but you get the idea. Table with 4 chairs and a bench.
I've been on the (online) hunt for a dining table w/ chairs and bench. I know I could get a regular 5 piece set and then buy a bench later, but for right now I'm looking for a complete set (to help Adam visualize what could be). So far I have found 3. 2 are from RoomStore (where we got our bedroom dressers) and the other is from Value City Furniture (my parents got their couches there, my sister got her dining set there).
Now to just get Adam to agree with me and we'll take it from there.